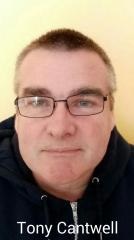 Tony Cantwell is a time served upholsterer, who over a 35 year career in the Irish furniture industry has worked in almost every section including:
New Furniture Manufacture

Reupholstery

Purchaser, specialising in Foam Products

Purchaser, of Fabric and Leathers, sourced from continental Europe.
The Sofa Doctor was set up by Tony 9 years ago. This is when Tony realised there was a market for a personalised, highly professional repair service for modern furniture.
He decided to set up a small company offering a well priced and friendly service. Tony Specialises in Sofa and Recliner seat rebuilds. This service was born out of a number of existing customers contacting him and asking that just the seat section of their otherwise perfect furniture be rebuilt
Frame Repair

Collapsed arm Repair

Cushion Replacement

Spring and Support Web repair

Replacing Zips

Fibre Cushion Refill

Recliner Handle Replacement

Recliner Cable Replacement

Recliner Mechanism Repair
How it works:
Fill out the form below, tell us the problem, attach a couple of photos of the problem area and also one of the overall design. We will then get back to you with a couple of repair options and a competitive quote. If the quote is agreeable we then make arrangements to call out.
Collection and Delivery
The Sofa Doctor will either repair your furniture on site, or he will collect the item from you, carry out the repairs in his workshop and deliver it back to you.
Contact The Sofa Doctor
Click on any of the links below to contact The Sofa Doctor by, WhatsApp, Phone, Text, or Email
Or fill out the form below